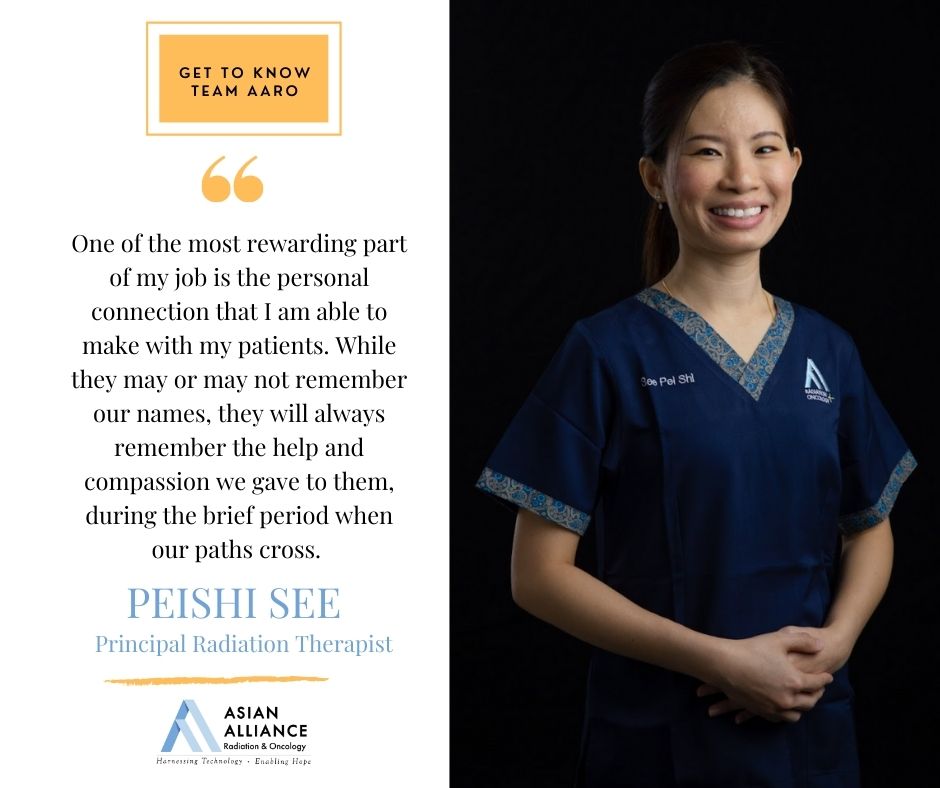 Why did you decide you wanted to be a Radiation Therapist?
I have always been fascinated with science and technology. After my A levels, I had originally wanted to study chemical engineering. But when I was introduced to the field of Allied Health professions through a brochure in my mailbox, my interest was piqued. I found myself having to decide between healthcare and chemical engineering. I eventually applied for the former and was awarded the Allied Health Scholarship and that started my journey in making a difference in the lives of patients through science and technology.
What is your role as a Radiation Therapist?
My primary role as a Radiation Therapist includes doing day-to-day quality assurance checks for the machine, pre-treatment work for eg: fabrication of immobilisation devices suited for the patients' treatment, computed tomography scans as well as administration of the radiation therapy treatment.
Sometimes, I am also a friend to my patients and counsel and support them whenever they need my advice ranging from treatment related issues to emotional matters.
What is your typical day like?
Although most patients come to us on a regular daily basis, our typical day is far from regular. Our day consists of answering patient's queries and allaying their worries and fears, especially if they are just starting treatment. We will try our best to assist them whenever we can. For patients who are already on treatment and experience treatment side effects during their treatment journey, we assess them on a daily basis to make sure they are coping well.
What do you think are the most important traits a Radiation Therapist need to have?
Meticulous and patience. Administering radiation treatment requires radiation therapists to pay attention to all the minor details to ensure the accuracy of the patient's treatment, hence being meticulous is a critical part of our job. Some patients require more care and attention from us due to their medical condition and being patient will help to alleviate their fears.
What do you think patients most appreciate about you?
Patients appreciate the fact that I am able to lend a listening ear to them instead of just offering them medical advice. By being their 'medical' confidante, I wish to extend HOPE to my patients so that they can recover and resume their routine lifestyle.
What is one thing you learned from working as a Radiation Therapist?
One thing that I have learnt is the importance of teamwork. We work in groups of 3 to 4 and collaborate with each other to bring out the best in everyone so that we can offer the best treatment possible for our patients.
What is the most rewarding part of your job?
The most rewarding part of my job is the personal connection that I am able to make with my patients. While they may or may not remember our names, they will always remember the help and compassion we have given to them, during the brief period when our paths cross.
What is the most challenging part of your job?
When we are providing treatment for palliative patients, it can be quite challenging to manage their expectations – some do not know the full extent of their condition and expect a cure. In truth, the treatment can only help to alleviate their symptoms and provide comfort for their remaining end-of-life journey. In such cases, we have to speak tactfully and avoid giving them false hopes about the outcome. This would help them have a more realistic expectation of their situation.
Tell us about one incident as a Radiation Therapist that left a deep impression on you.
There was a prostate patient who required 39 fractions of treatment over a period of 2 months and he was travelling from Malaysia. His son and family would accompany him daily throughout the entire course of his treatment  and spend 3-4 hours daily commuting across the causeway. The support and unconditional love shown by his family gave the patient the strength to endure his treatment. That incident touched me greatly.
What do you like to do most when you have time away from your job?
I like to spend time with my family. After a full day of work, seeing my kids greet me at the door and share with me about their daily encounters in school makes it all worthwhile.
What makes AARO a special place to work in?
In AARO, we are a close-knit team and we are always able to discuss and give suggestions on how to improve the patient's treatment as well as their experience along their treatment journey.