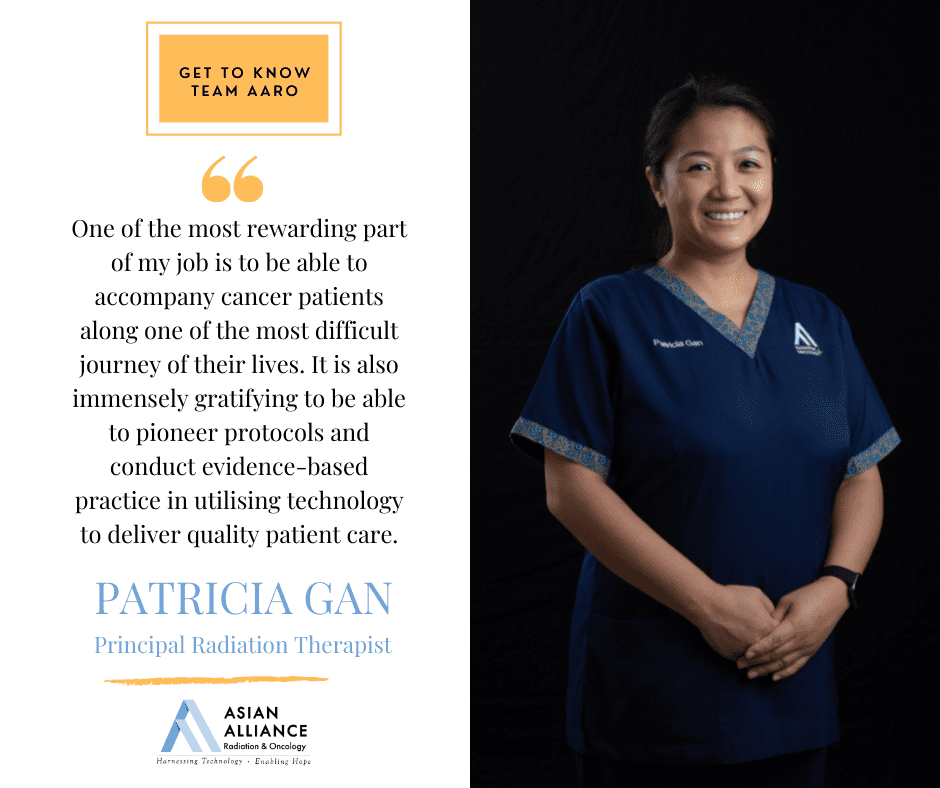 Why did you decide you wanted to be a Radiation Therapist?
After my 'A' levels, I had 2 options: to pursue a Bachelor of Arts at NUS or a Diploma in Radiation Therapy with Nanyang Polytechnic. I decided to choose the less conventional path. As one of my life goals is to make a difference in people's lives, entering into the field of Radiation Therapy would allow me to achieve that as I would have the opportunity to work closely with cancer patients.
Upon graduation from NYP, I was awarded the Allied Health Merit Scholarship to further my studies at the University of Sydney, Australia. It was there that I completed my honors thesis and gained valuable exposure in clinical practice in a foreign setting. After that, I returned to Singapore to begin my career as a Radiation Therapist in National Cancer Centre Singapore.
What is your role as a Radiation Therapist?
I work as part of a multi-disciplinary team providing Radiation Therapy treatment for cancer patients. My responsibilities include positioning the patient for daily treatment, CT simulation of treatment position for the patient and fabrication of immobilization devices.
As a Principal Radiation Therapist, I am also heavily involved in protocol development and execution, including delivering stereotactic radiation therapy treatments in the Centre for Stereotactic Radiosurgery at Adam Road. Radiosurgery treatments require high accuracy and sub-millimetre precision as extremely high doses of radiation are delivered to the patient to achieve similar effects to surgery. There is zero margin for error and the Radiation Therapists work very closely with the Radiation Physicist and Radiation Oncologist to ensure that the patient receives the best quality of care at every step of their treatment journey.
Beyond the technical aspects of being a Radiation Therapist, we interact very closely with our patients to ensure that the patient's clinical needs are monitored closely throughout radiation therapy.
What is your typical day like?
I begin my day by performing Quality Assurance (QA) checks on the Linear Accelerator, the machine which Radiation Therapists operate to deliver radiation therapy. It is essential that QA checks are performed and passed before commencing patient treatment to ensure accuracy of the radiation beam itself. It is akin to testing out a roller coaster without passengers at the start of the day. Only when all systems are checked, will it be deemed safe to carry passengers and ensure that they can have a smooth and exhilarating ride.
Following which, the team of Senior Radiation Therapists including myself begin our routine of patient treatment, immobilization fabrication and CT Simulation. I actively engage patients in conversation as they arrive for treatment, putting them at ease while also clinically assessing them for any side effects of radiation therapy. The Radiation Therapists work closely with the Radiation Oncologist for any observed side effects, allowing quick response from the Radiation Oncologist in the form of advice or medications to ensure that patients are as comfortable as possible throughout treatment.
In between treating patients, we run through files of new patients beginning treatment the next day as they need extra care in ensuring that their treatment begins smoothly without any issues. After the treatment plan is produced, we load the files onto the Linear Accelerators and deliver a mock treatment without the patient present. This allows us to foresee any issues before patient arrival and to ensure accuracy during treatment delivery.
What do you think are the most important traits a Radiation Therapist need to have?
Firstly, as a healthcare professional, the most important trait for a radiation therapist to have would be that of professional empathy for all patients. Patients are intuitive and they can discern between experienced professionals who are truly empathic and someone who is just going through the motions. Professional empathy is essential as it allows us to build rapport with our patients but does not detract one from performing clinical duties.
Radiation therapist also need to pay high-levels of attention to detail. With sub-millimetre accuracy in stereotactic treatment delivery, we adopt a no-compromise attitude before we push the button to begin radiation treatment. Effective communication with patients and patient education is essential so that patients understand the amount of care taken in ensuring safe and precise delivery of their treatment.
What do you think patients most appreciate about you?
I hope that patients appreciate that I strive to provide as much information as possible in educating them about their treatment and what it entails. It is my hope that their fears in undergoing radiation therapy are allayed by knowledge. It may be something as negligible as counting down the seconds before treatment delivery is complete, but that small effort taken goes a long way in reassuring patients that there is someone with them as they are undergoing treatment.
What is the most rewarding part of your job?
It would be that I am allowed to accompany patients on their cancer journey, which no doubt would be one of the most difficult parts of their lives. It is also immensely gratifying to be able to pioneer protocols and conduct evidence-based practice in utilising technology to deliver quality patient care.
What is the most challenging part of your job?
Tell us about one incident as a RT that left a deep impression on you.
Maintaining a professional emotional distance would be the most challenging part of being a Radiation Therapist. There was a young cancer warrior who underwent SBRT under my care, and both the patient and her family became my firm friends. They would look me up for a chat whenever they came to the hospital even when they had no appointments. When her condition took a turn for the worse, I found it very difficult to maintain a professional front. Sadly, she lost the fight against cancer. But I was glad to be there for her to provide professional support in administering radiation therapy to arrest the spread and alleviate her pain and be a friend to the family during this difficult journey.
What do you like to do most when you have time away from your job?
Read fantasy novels – favourite author Brandon Sanderson, exploring new places for good food and sleep
What makes AARO a special place to work in?
The heart of AARO is made up of a bunch of passionate individuals who share a deep sense of camaraderie while carrying out our duties in our respective fields of expertise. It is always at the forefront of our minds to continually analyze, brainstorm and implement ways to improve our practice for the better of our patients. It is inspiring for me to work daily with team members who share the common purpose of providing the best care possible to all our patients.