A new technology called SpaceOAR is now available to our patients.
When treating prostate cancer patients with radiation therapy, the goal is to destroy the cancer cells while avoiding damage to surrounding healthy tissue.
How Does It Work

SpaceOAR Hydrogel is injected into the space between the rectum and the prostate. This gel increases the distance between the 2 organs, vastly reducing high dose radiation to the rectum.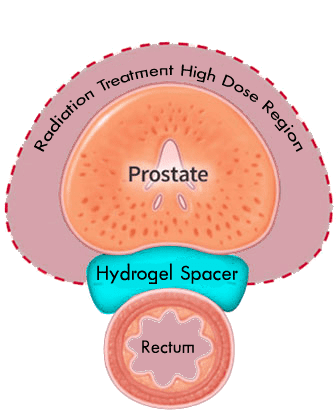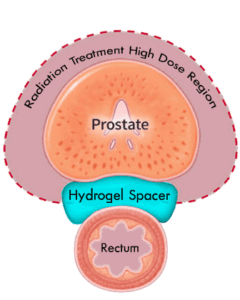 What Is It Made Of

SpaceOAR Hydrogel is made from a soft gel-like synthetic material that mostly consists of water and is safe to use in the body. Following treatment, the SpaceOAR Hydrogel liquefies and is naturally absorbed and excreted by the kidneys within six months.
What Does It Do

SpaceOAR Hydrogel is clinically shown to minimize urinary, sexual, bowel side effects and protect quality of life for prostate cancer patients undergoing radiation therapy.
Benefits of this procedure:
It is minimally-invasive

Only requires local anesthesia

No hospital stay is required

Once done, patients can return home to their normal activities for the day!

Eligible for Full Insurance Coverage